Solo Exhibition
MATERIA E SIMBOLO
Ziegeleimuseum
Untere Buchstrasse 22a, Jockgrim, Germany
16th April - 8th May 2011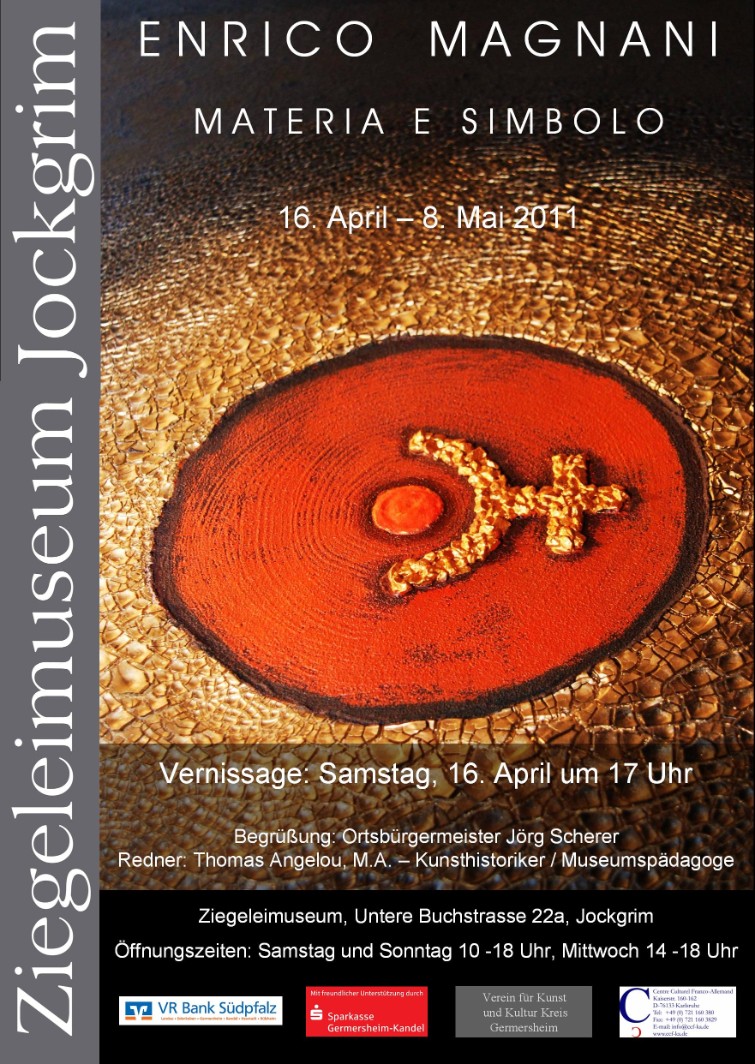 MATERIA E SIMBOLO
"Materia e Simbolo" collects more than twenty recent artworks of Enrico Magnani, all based on his artistic philosophy: art as a catalyst for human inner development - from the beast to divine. With their silently provocative strategy these Games, Labyrinths, Principles, and Creations transport the public on a path that becomes a metaphor of life and man on his existential pathway, gripping it with personal questions and answers.
A show inside the show: four artworks on the theme of the "Four Elements" (Earth, Water, Air, and Fire) will be presented in this occasion for the first time to the public together with the projection of a short art-movie made by the artist with the pictures of his own paintings. During the vernissage the movie will be integrated in the performance of the pianist Frederic Rozanes www.fredericrozanes.com , playing a piece of classical music for each element.
Partners
Ziegeleimuseum, Gemeinde Jockgrim, Sparkasse, VR-Bank, Fondation Centre Culturel Franco-Allemand Karlsruhe, Verein für Kunst und Kultur Kreis Germersheim.