Solo Exhibition
MYSTICAL TREASURES
Artworks from 2007 to 2014
MIIT Museum
Corso Cairoli 4, Turin
13th December 2014- 3rd January 2015
Opening: Saturday 13th December 2014, 18.00.
Opening hours: from Tuesday to Saturday, 15.00 - 19.00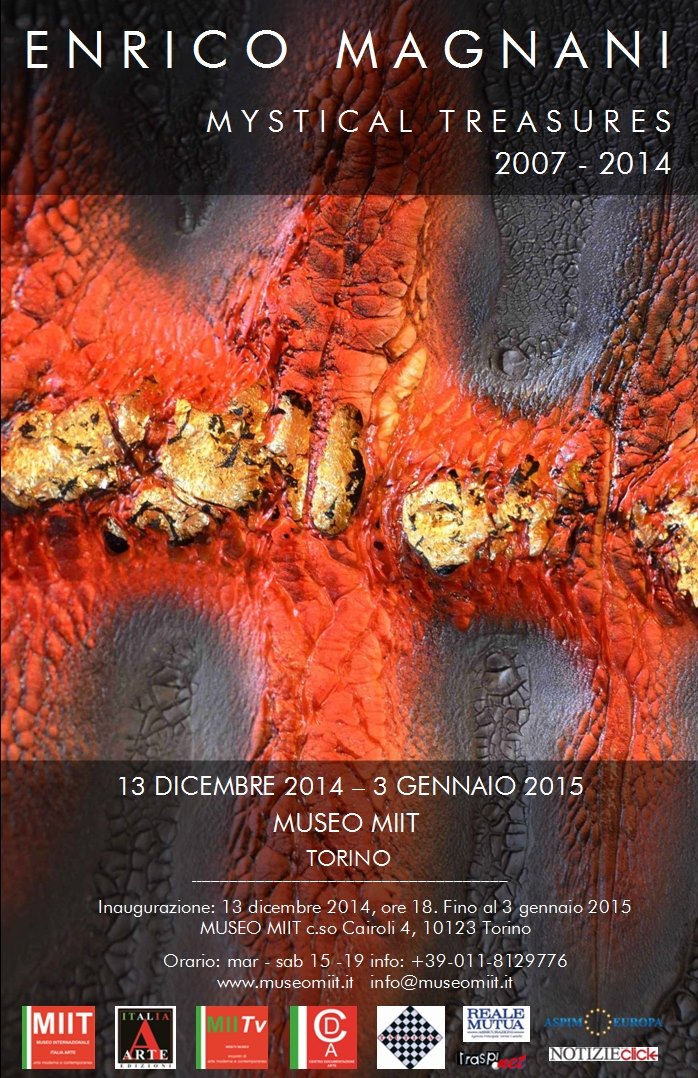 MYSTICAL TREASURES at MIIT


di Guido Folco


Italia Arte and MIIT Museum are pleased to host the retrospective exhibition of Enrico Magnani, as part of the project for internationalization of some of the best Italian and foreign contemporary masters set up by our monthly magazine and the MIIT Museum, active for many years in the promotion and enhancement of the most interesting talents in the art world. Continuing its exhibition path rich of international stages, Enrico Magnani presents a selection of his most intense artworks, from the experiments on the matter to bright chromatisms, from abstract and symbolic research to the profound investigation about man and world. The works of Magnani start from a rationalistic principle of cause and effect, perhaps the most visible at first sight, that is found in very particular crimped material with which some of his works are made of. The artist, like an ancient alchemist, is directly involved in the process of transformation of reality, creating a metamorphosis that is not only structural and physical, but metaphorical of the ephemeral existence in constant renewal. The artist captures this process in a very precise phase, making it immortal and eternal, just like the mystical and mythological meaning of his language. In the creative philosophy of Enrico Magnani are essential the four elements on which life is based: earth, water, air, and fire, which the author manipulates, works, blends in careful and reasoned osmosis, precise like the measures of a magical potion. The succession of time and space, its continuous interweaving with the destinies of man and history then take, in Magnani, the Ouroboros, the ancestral symbol looking like a snake biting its tail. Such continuous dynamism creates an unbroken circle with multiple meanings related to alchemy, hermeticism, gnosticism, representing the universal cycle of nature, the theory of the One and All, the Positive and Negative, in a visionary fresco between Western and Eastern traditions. From the mazes of the Greek mythology and Gothic cathedrals, paths of salvation, Magnani recreates its inner paths looking for the truth, full knowledge, and freedom. The result is this exhibition, intended to take other directions, other roads in the deep human survey of the Man, that Enrico Magnani, with wise and cultured intuition, poses in front of each one of us.
(Guido Folco - Director MIIT Museum )