Participation in the Exhibition
ART FOR FUTURE
Charity for Akbaraly Foundation

Fondazione AEM, Milan, Italy
13th – 16th December 2012
***
With the participation of: Presidenza del Consiglio Comunale di Milano, Fondazione AEM Gruppo a2a, Akbaraly Foundation
(Madagascar), Italia Arte, Aquas, MIIT, and the patronage of Provincia di Milano.
Press Conference: Wednesday 12th December 2012, 12.00; Palazzo Marino (Sala Giovanni Marra), Piazza della Scala 2 - Milan
Opening: Thursday 13th December 2012, from 18.30, Opening hours: 15.00 - 18.00.
Fondazione AEM, Piazza Po 3 - Milan.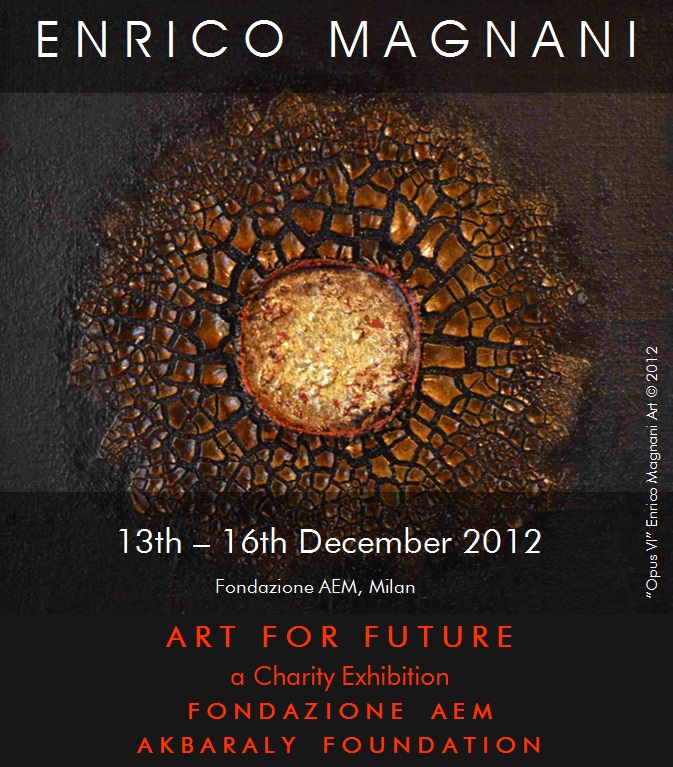 The artwork "Opus VI" is kindly devoted by Enrico Magnani for charity exhibition purposes.

Attending

Alessandro Cecchi Paone, Giornalista
Basilio Rizzo, Presidente del Consiglio Comunale di Milano
Guido Folco, editore-direttore "Italia Arte", presidente MIIT e Galleria Folco, curatore della mostra
Alberto Martinelli, Presidente "Fondazione AEM"
Umberto Veronesi, Direttore Scientifico "IEO"
Cinzia Catalfamo, Presidente "Akbaraly Foundation"
Anna Rita Vento, Vice Direttore Divisione di Senologia IEO
Alberto Michelini, Presidente "Fabula in Art"
Paolo Turati, Collaboratore Christie's Italia, Gruppo Pinault Palazzo Grassi
AKBARALY FOUNDATION
http://www.fondationakbaraly.org